On June 22nd I discovered that I was removed from Sugar Glider Fanatics Facebook Group. When I posted in The Drama [Facebook] Group asking Brittany why (originally thinking it was because of my cover and profile photos at the time) I found out it was about a cage cover that I sent to Lynn P (in March 2014) supposedly killing her gliders. Lynn never sent me proof that it killed her gliders (even when I asked multiple times) and told me "not to worry" about replacing them when I offered multiple times (Until 6-19-14 then came back on 6-23-14 and said she didn't want it, again); As of 6-23-14 the glider was also not marked deceased in the database. Even though I questioned the legitimacy I still paid someone else to send her a cage cover on 6-23-14.
Because I don't want to make this post any longer than it needs to be I have separated the photos into groups. Four are links to screen shot which are at the bottom of this post; The private messages between Lynn and I about the cage covers and some supporting information starts here:
We first discussed trading 8 cage covers for a glider on the phone, this is a continuation:
In this I sent Lynn my sewing pattern for my cage covers: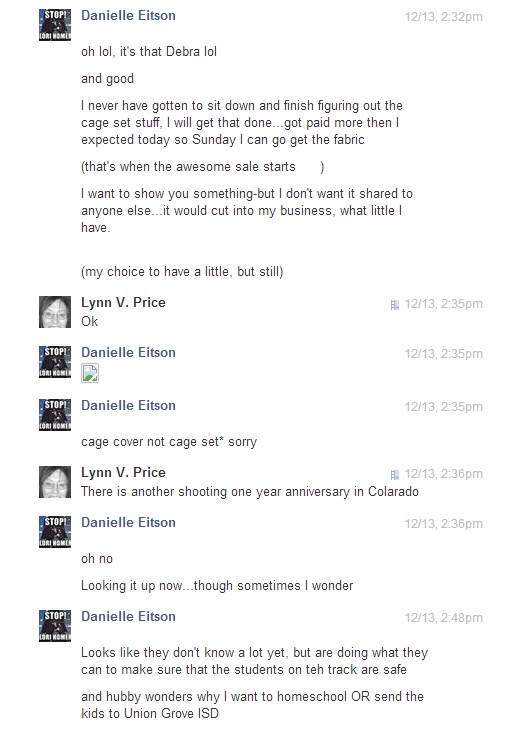 Here's where I told Lynn I figured up the prices of the cage covers (so we could figure out the trade details):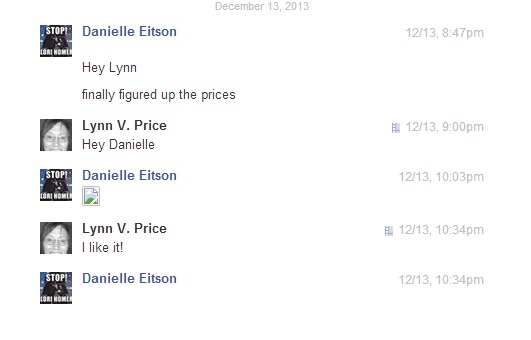 Here is where I was at the store trying to contact Lynn to discuss exactly which shades she wanted.

Sent Lynn pictures of the fabric -burgandy, tan, brown, and grey.
Told Lynn I finished her cage covers, she knew I had a few things going on and told me to shoot for Monday. On the phone we discussed further and she wanted to wait until we made sure all the issue(s) were cleared up.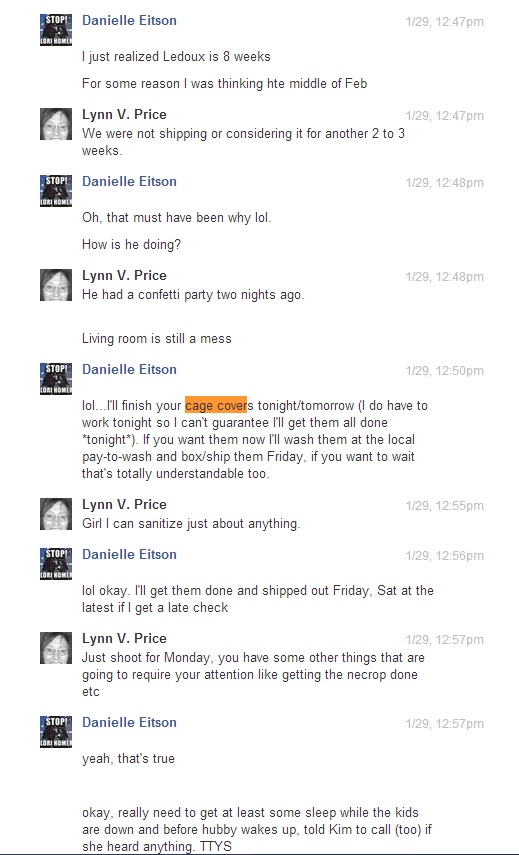 In this is an explanation of the issues I was having between the end of Jan and March:

On 3-17-14 I told her I'd send the cage covers out which I sent on 3-18-14: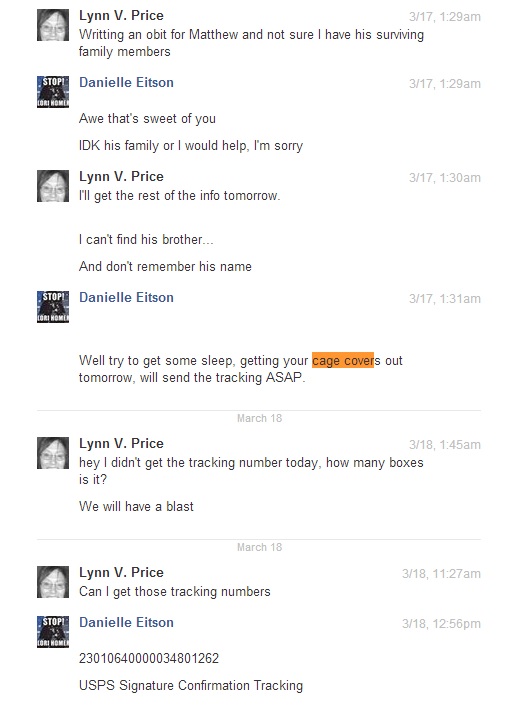 On 3-22-14 Lynn said I needed to hem the raw edges (on fleece? I didn't press for details) and she was surprised they weren't like the "diagrams" aka patterns.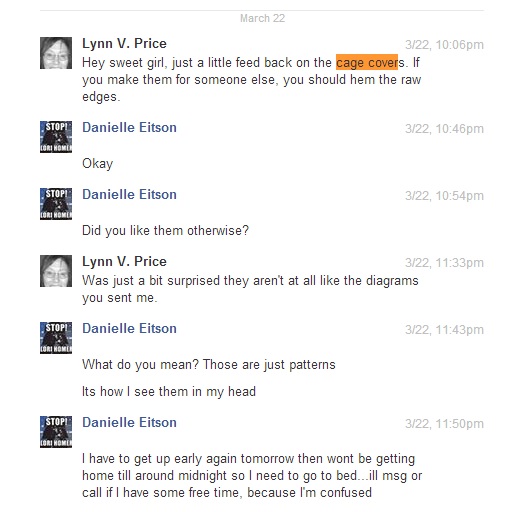 On 3-25-14 she said they HQ Sturdy Tall's were too short. (I never got measurements from her, I had to find them online); I offered to replace those on the phone but she denied.
Here is where Lynn told me the cage cover "killed" her glider. I apologized profusely and asked for pictures of the problem seam. We transferred to the phone where I offered my condolences again and offered to replace, which she denied.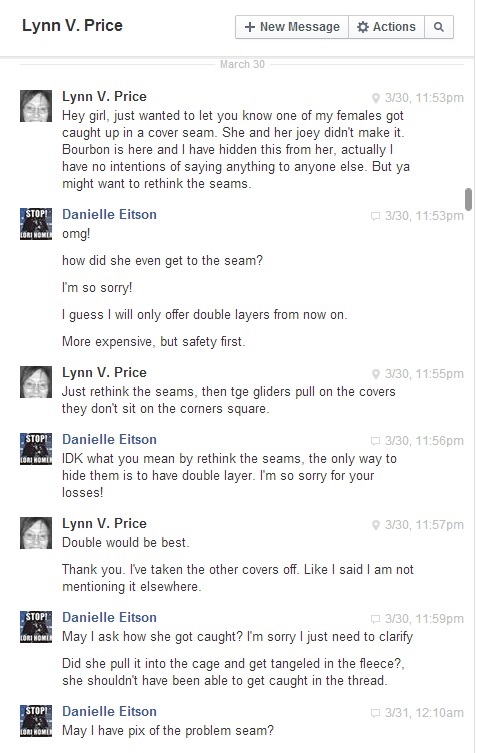 Here are pictures of a cage cover (but notably not the one that Isis got hung up on). She told me they put them back on inside out. I offered to fix them again. She called again and denied wanting them again.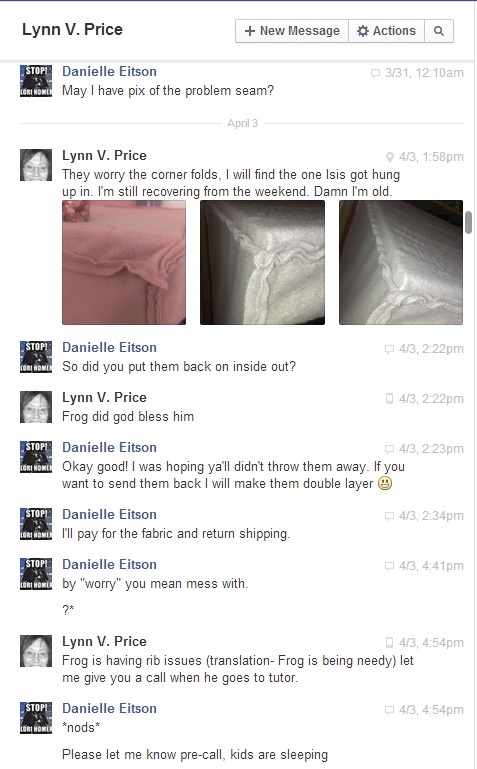 Months go by, on June 18th I told Lynn I asked to be put on the approved vendors list in SGF. I offered to send her one of my new cage covers (which has a french seam) to replace the one that supposedly killed Isis (I still didn't and don't have any proof) but told her it'd be a month, we switched to the phone where she accepted.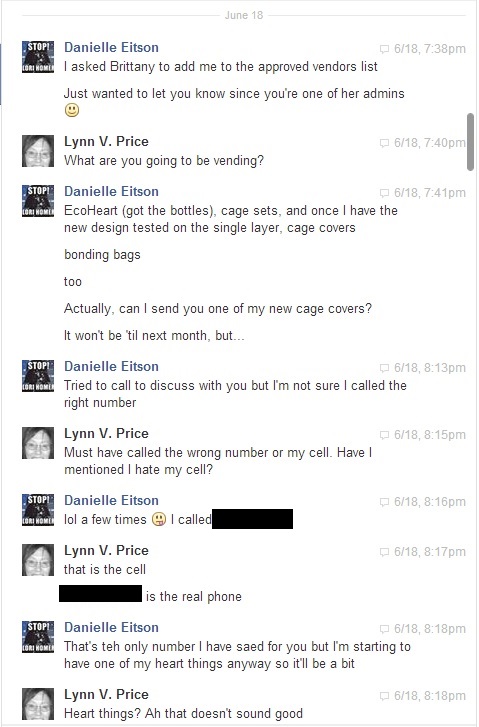 On the morning of the 19th I told her I'd let her know when I could get the fleece for her cage cover.
On this Lynn claims that my bonding bags fall apart, I've only had ONE person ever come to me with a problem of my bonding bags and that was a strap that got caught on something. She shipped it back, I refunded her the shipping, gave her one bonding bag (not made by me) in July 2013 (during a road trip I made) then gave her money for the one from me later because I wasn't sure if I was going to continue sewing (this was 2013).
In July of 2013 Lynn told me that if I came to pick up Sweet Tea she wouldn't ask for money because she'd already sold Sweet Tea once to a home that didn't work out so she was returned...on the way there she called and asked if I would take Lemon Drop too because they are sisters and she didn't want to separate them.
In Nov '13 I paid Lynn $100 deposit for Ledoux, in March of '14 I sent 8 cage covers and paid for shipping Ledoux.
On one thread in Drama someone had asked if my EcoHeart cleaners got rid of fruit flies, I told them I didn't think it would, but it did have something in it that could used as mosquito repellent and clarified specifically it was not DEET or any other chemicals (it's euc oil). She claims she didn't want the replacement when I offered it (but she accepted) and that she had posted them in Safe Sewing for Suggies asking if they were safe.
Lynn then blocked me before I could respond further.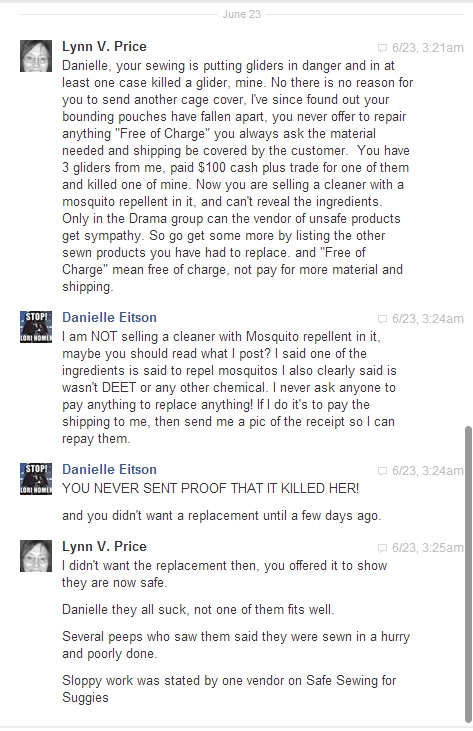 Here is Isis' first "registration" (for lack of a better word) in TPG-notice she's NOT marked as deceased.
http://pedigree.thepetglider.com/modules/animal/dog.php?id=30219
Here is Isis' second "registration" (for lack of a better word) in TPG-notice she's NOT marked as deceased here either.
http://pedigree.thepetglider.com/modules/animal/dog.php?id=16983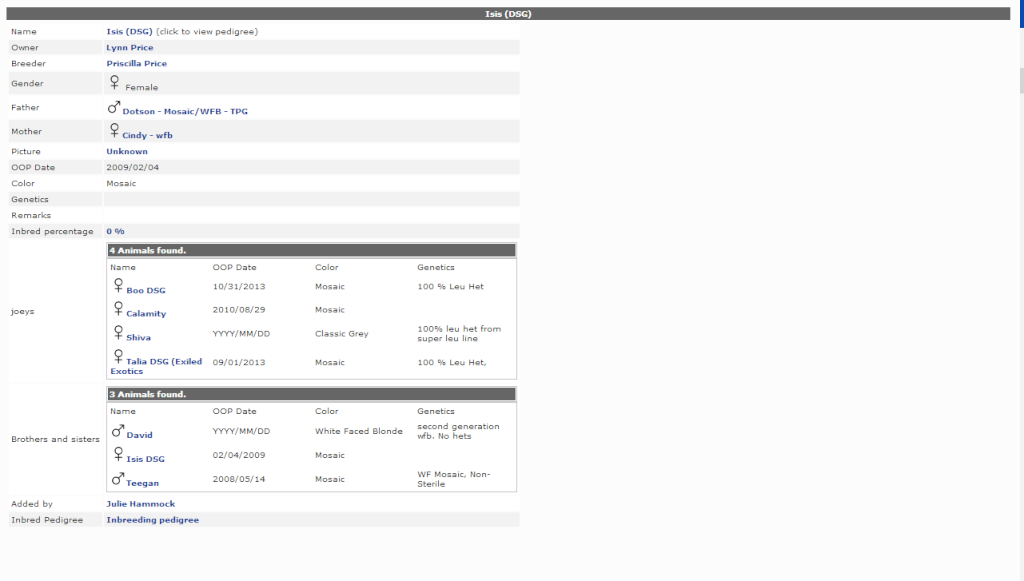 The following screens are what someone who wishes to remain anonymous sent to Beth. In it she implies that my EcoHeart uses a bad mosquito repellent (like DEET), she also says here she asked me to send her another cage cover (which she said above she didn't accept, but on the phone she did accept...) and claims that I was going to send the cage cover that "killed" her glider to another customer! I would NEVER do that! Why would send a dangerous cover! Also I never asked for it back the only thing I asked for was proof (unless it was one of the ones that was too short, in which case I never asked for it back after it "killed" her glider). She claims that she thought the seams would be hidden or seam free when she knew she was getting single layer fleece cage covers and had seen the patterns.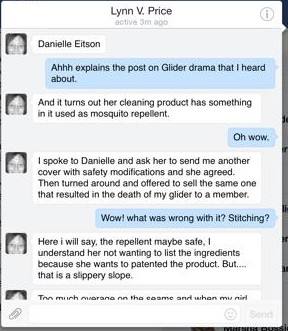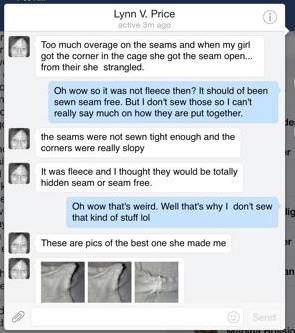 In this one she says these are pictures of the "best one she made me" (these are made bigger below)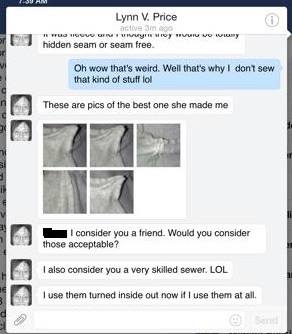 A junction.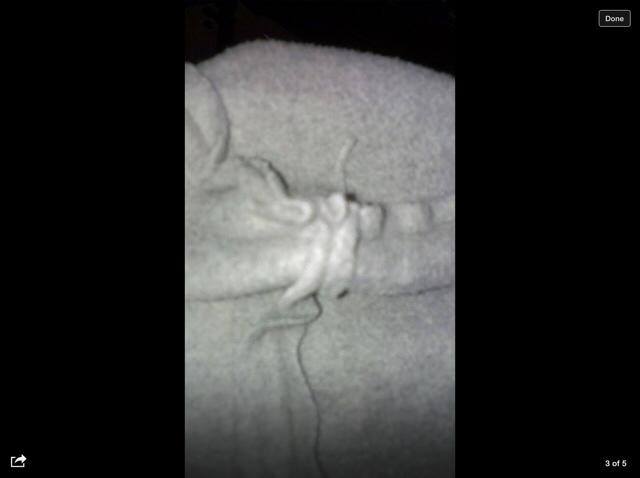 I didn't and would never leave string, so I'm not sure what this is.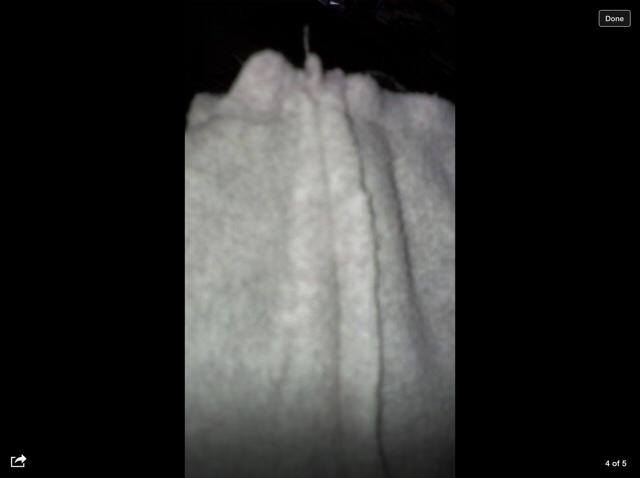 Pictures of a corner.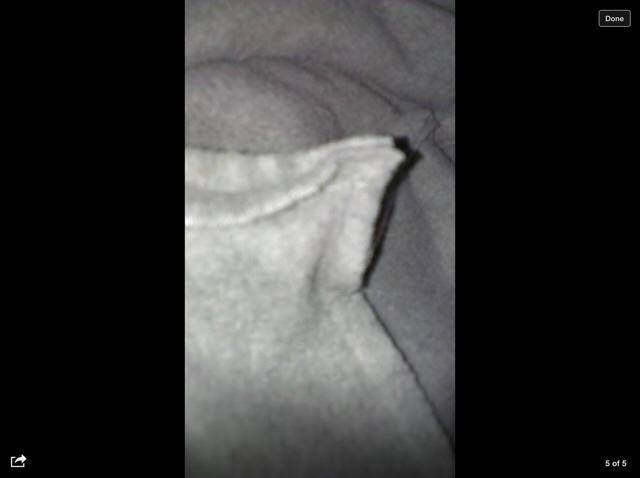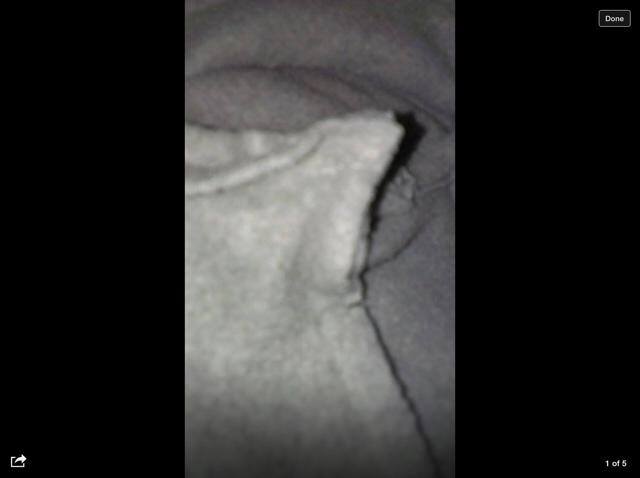 I would like to add that I purposely did not cut off the extra fleece at the end in order to give the thread a better grip because it was a single layer cage cover.
Here's where the person message me as well...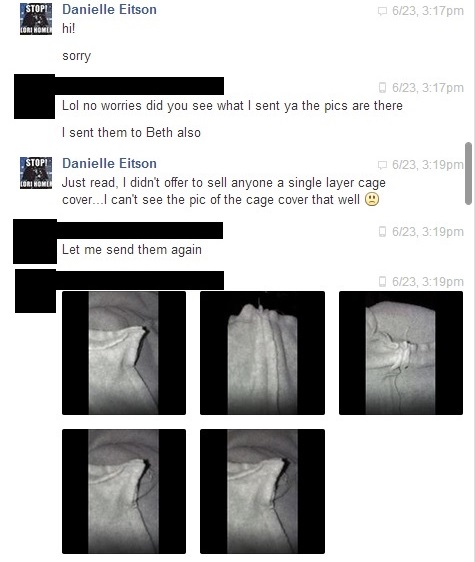 In this one the vendor says that Lynn should have verified all this and sent it to me and that she knows Lynn's enough to know she would have documented everything (which she didn't).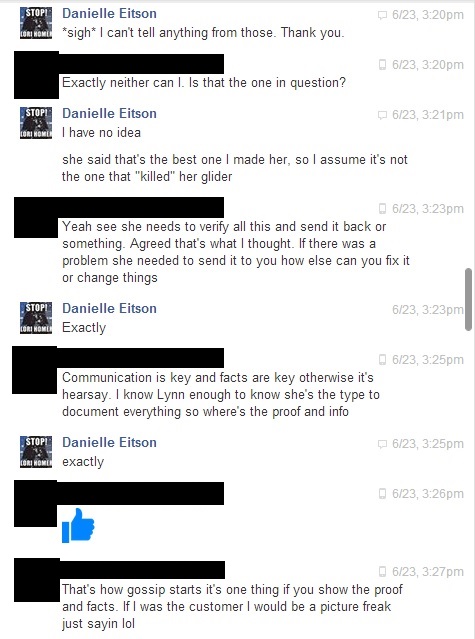 In this one I informed the vendor (this is also mentioned in the threads below) that even without proof I bought Lynn a new cage cover from another vendor.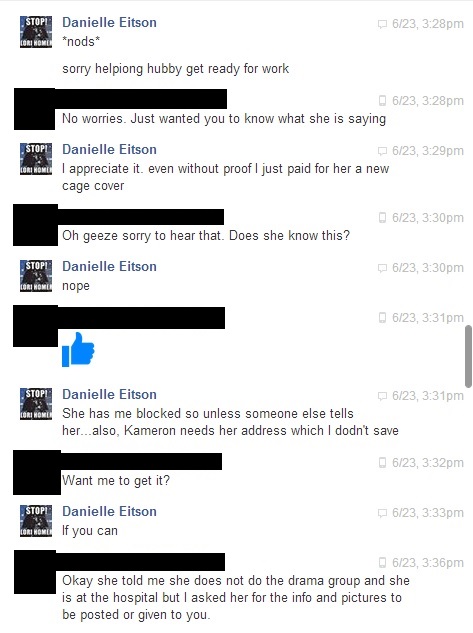 Person said as a vendor they'd want proof...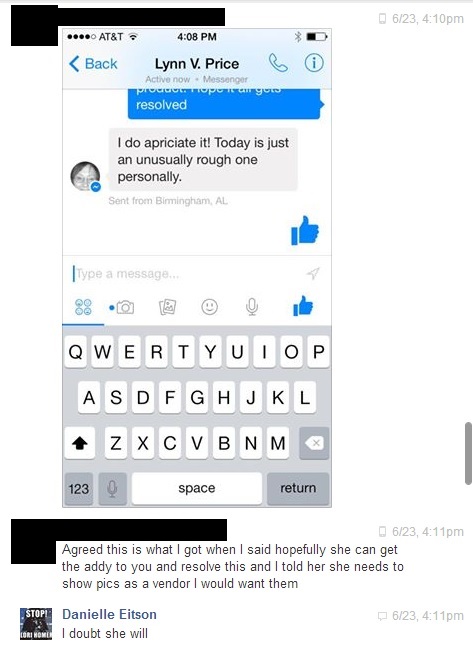 Person saying they only hear from Lynn where there's drama and that she wouldn't sell to her now.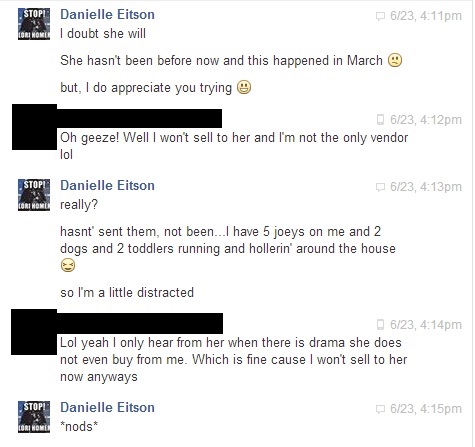 From ANOTHER vendor saying that they'd expect proof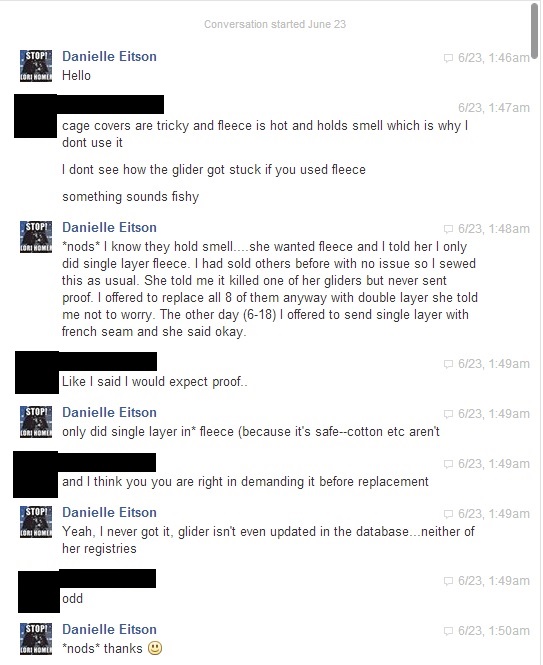 Here is proof that I purchased a cage cover from another vendor for Lynn P (even without proof)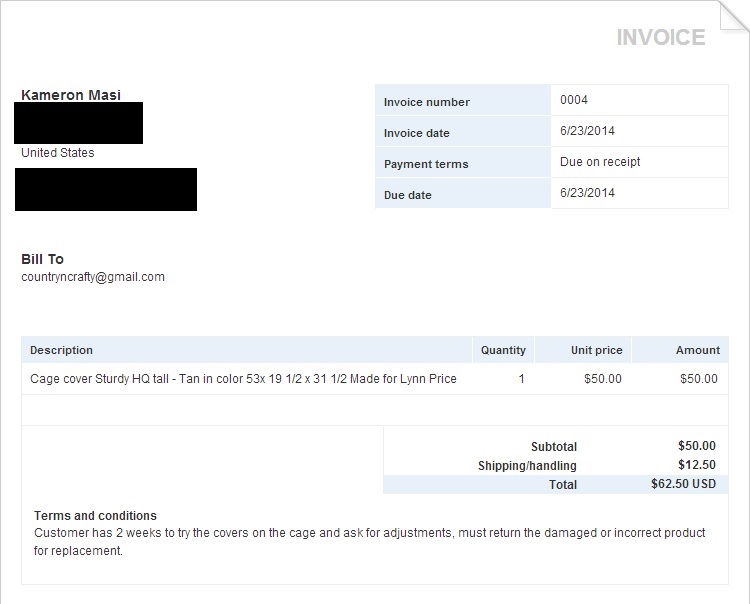 My post on Drama asking Brittany why I was removed:
http://i39.servimg.com/u/f39/18/92/79/94/sgfkic10.jpg
http://i39.servimg.com/u/f39/18/92/79/94/sgfkic12.jpg
http://i39.servimg.com/u/f39/18/92/79/94/sgfkic13.jpg
http://i39.servimg.com/u/f39/18/92/79/94/sgfkic15.jpg
http://i39.servimg.com/u/f39/18/92/79/94/sgfkic16.jpg
http://i39.servimg.com/u/f39/18/92/79/94/sgfkic17.jpg
http://i39.servimg.com/u/f39/18/92/79/94/sgfkic18.jpg
http://i39.servimg.com/u/f39/18/92/79/94/sgfkic19.jpg
http://i39.servimg.com/u/f39/18/92/79/94/sgfkic20.jpg
http://i39.servimg.com/u/f39/18/92/79/94/sgfkic21.jpg
http://i39.servimg.com/u/f39/18/92/79/94/sgfkic22.jpg
http://i39.servimg.com/u/f39/18/92/79/94/sgfkic23.jpg
http://i39.servimg.com/u/f39/18/92/79/94/sgfkic24.jpg
http://i39.servimg.com/u/f39/18/92/79/94/sgfkic25.jpg
http://i39.servimg.com/u/f39/18/92/79/94/sgfkic27.jpg
http://i39.servimg.com/u/f39/18/92/79/94/sgfkic28.jpg
http://i39.servimg.com/u/f39/18/92/79/94/sgfkic29.jpg
Here is where Lynn asked me to change my profile picture:
http://i39.servimg.com/u/f39/18/92/79/94/asking10.jpg
http://i39.servimg.com/u/f39/18/92/79/94/asking11.jpg
Here's where I asked Lynn in private why I was removed and she called my a hypocrite:
http://i39.servimg.com/u/f39/18/92/79/94/me_ask10.jpg
http://i39.servimg.com/u/f39/18/92/79/94/me_ask11.jpg
My public post about my cage cover:
http://i39.servimg.com/u/f39/18/92/79/94/public10.jpg
http://i39.servimg.com/u/f39/18/92/79/94/public11.jpg
http://i39.servimg.com/u/f39/18/92/79/94/public12.jpg
http://i39.servimg.com/u/f39/18/92/79/94/public13.jpg
http://i39.servimg.com/u/f39/18/92/79/94/public14.jpg
http://i39.servimg.com/u/f39/18/92/79/94/public15.jpg
http://i39.servimg.com/u/f39/18/92/79/94/public16.jpg
http://i39.servimg.com/u/f39/18/92/79/94/public17.jpg
http://i39.servimg.com/u/f39/18/92/79/94/public18.jpg