Edit by Admin: Please note that the following screen shots contain curse words normally not allowed here on TSS. Readers are urged to remember that , while these photos capture the reality of these situations as they unfolded (mostly on Facebook), cursing is not allowed within our discussions in this thread.
Lynn V Price--
This is a collection of malicious untruths that Lynn V Price has spread about various people. She prefers to use the phone when spreading these lies, so finding hard proof has been slow at best, but I'm sure you will see here that she has most definitely spread false rumors about people she didn't want to succeed for one reason or another. Unfortunately, this collection is rather small, and it's unlikely that the bulk of her slander will be verifiable since she preferred to speak on the phone about anything that might come back to bite her.
There are a number of suspicions we have about slander/libel we have not been able to confirm, but since there is no proof of these additional suspicions, they have not been included in this collection. I know that my own reputation has taken a hit from Lynn, I have had a number of messages from people saying that I'm not the monster they were told I am, but no one has come forward with proof. I have left out evidence from Stacy intentionally, although I have quotes for her saved I don't feel they are crucial to this post and I would like her not to have to stress about drama while she is trying to pick up the pieces.
The sad thing here is that ALL of this could have been stopped early if those she spoke to had gone directly to the person in question rather than just passing the information along. I will admit I am guilty of this as well. The way she would present these lies would make you feel as though you needed to spread the word but never go back to the slandered/libeled person for confirmation. Please take care when speaking to Lynn and if she tells you anything about someone, please go directly to the person she spoke about to verify any accusations made. If we can all start being honest with each other this cannot happen...it all starts with YOU and how you choose to conduct yourself.
If anyone needs to communicate with me (or has anything to add) I can be reached on Facebook here:
https://www.facebook.com/dichroic
Lynn admitting to having Connie close Matthew Compton's memorial fund. The excuse as to why it needed to be closed varies.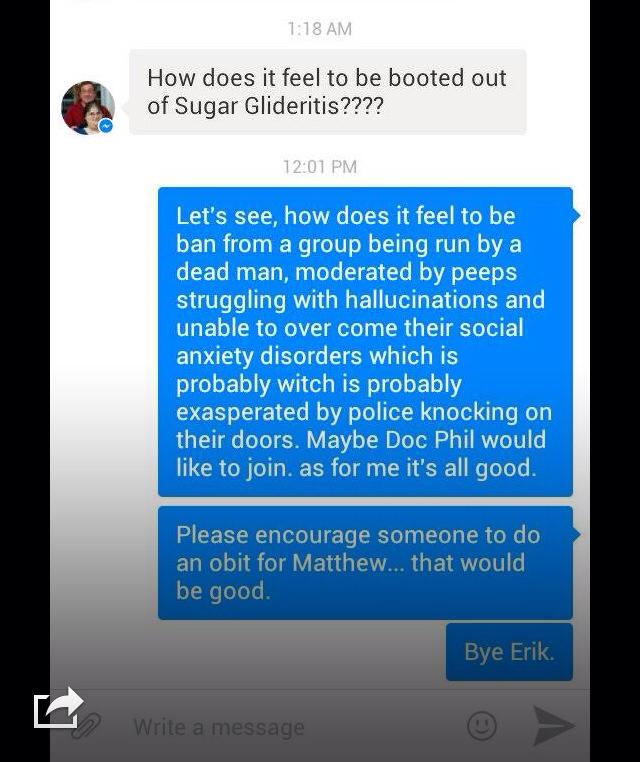 Lynn lying about offering to make me an admin in SGI. She says here I wouldn't take it. Other screens in this album show that I asked to be made admin several times and she would not.
The convo between Jen T and Lynn, leading up to Jen's reasons for being distracted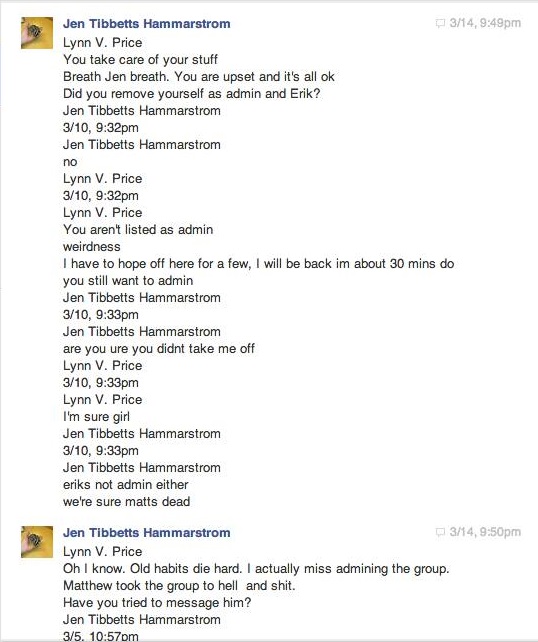 Jen giving her reasons for being stressed outside of Matt's death. Lynn goes on to tell people that Jen thinks everyone blames her for Matt's death, which makes her sound crazy. No such thing was ever expressed from Jen.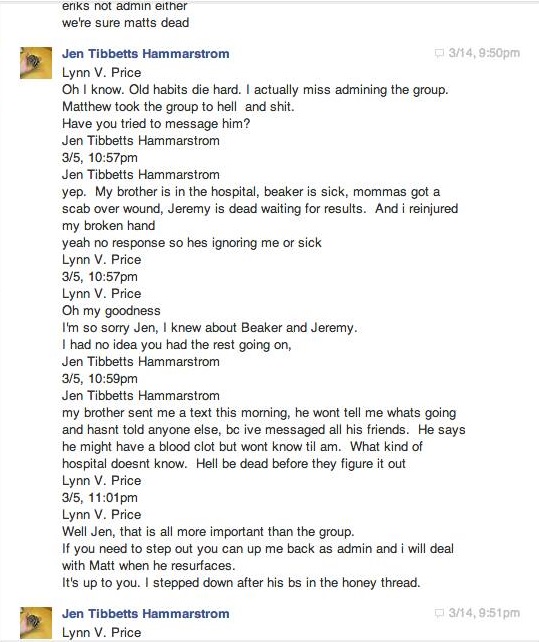 Mentions the closure of the memorial fund and Lynn lying about the funeral home agreeing to consider services paid with what was sent, to stop me from questioning the funding. Shortly after this, Matt's sister opened a new fund saying they had nowhere near enough to cover what they needed paid for.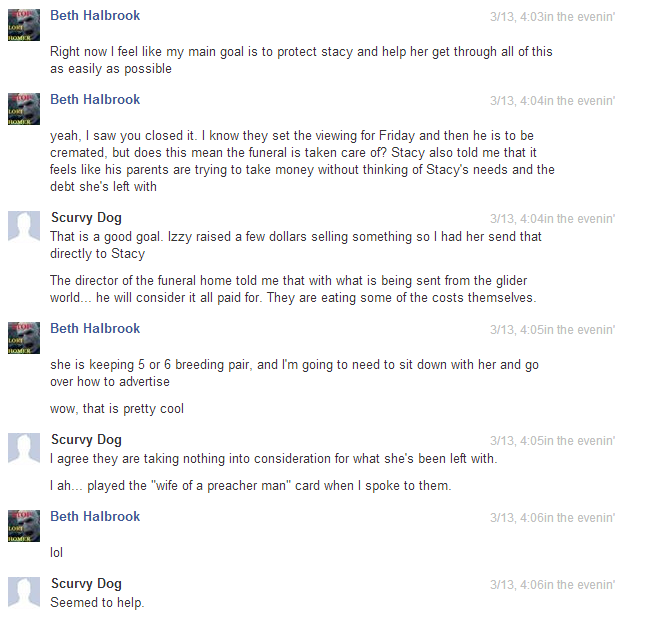 Lynn lying about Jen Tibbett's mental state so I wouldn't listen to her. Jen's explanation in previous screens.
I also ask Lynn to make me an admin, which she later lies about, telling Chris that I never agreed to take the position temporarily.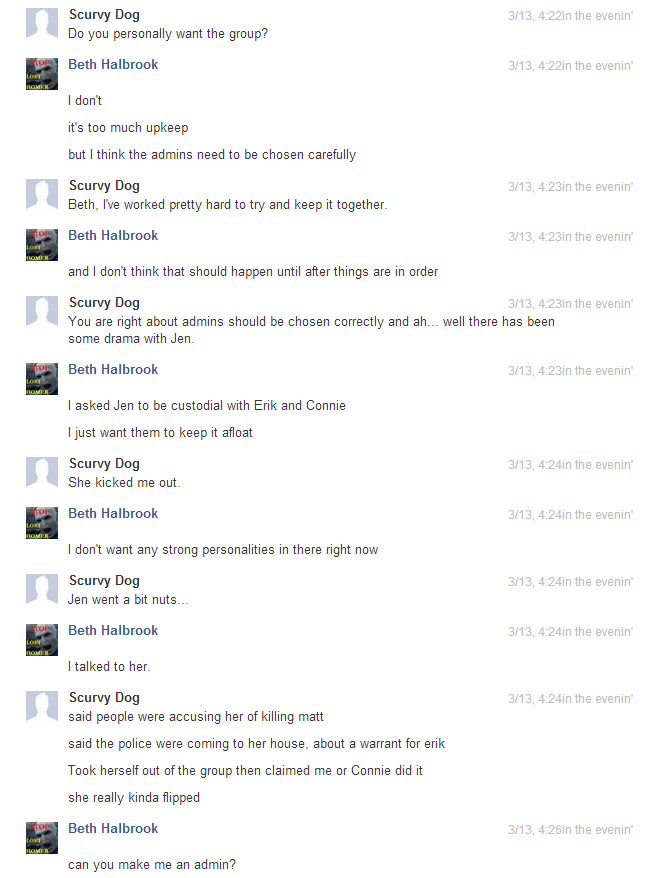 Lynn saying that she will refund the money on the joey that has already been paid for once she sells him. He was paid in full, Lynn had been sending me messages letting me know he'd be shipping soon, and I was surprised to find out that 3 months later he had not yet been shipped (she considered him "part mine" because I allowed Matt to take my spot on the waiting list from this pair). Unfortunately records of Lynn updating me on this boy are lost because they were in my old phone. He was not sold--he was kept and paired up with a female. No money was ever returned to Stacy. No cubes were ever paid for (so none were made).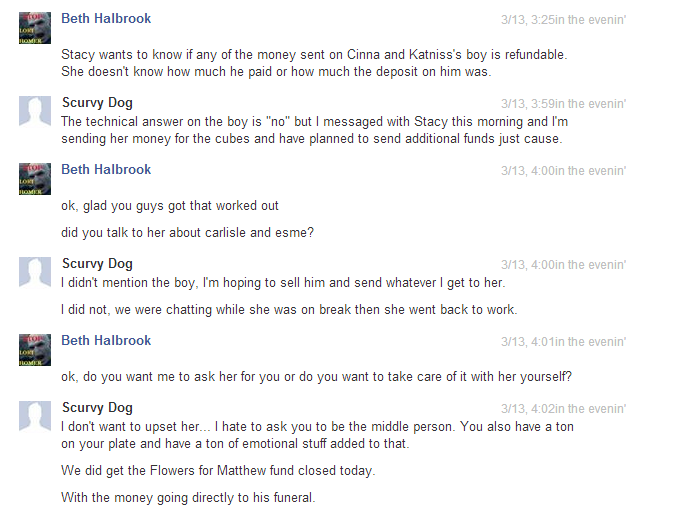 Her letting me know that MC Skwerl would ship soon. She acted like he was mine, but I had given my spot on the waiting list for this pairing.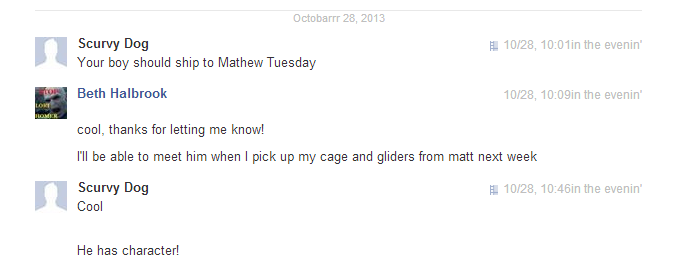 Confirmation that the shipping cube for MC Skwerl was there and he would be shipping soon. Still no idea why she was talking about shipping him this far back and he was still not shipped when Matt passed.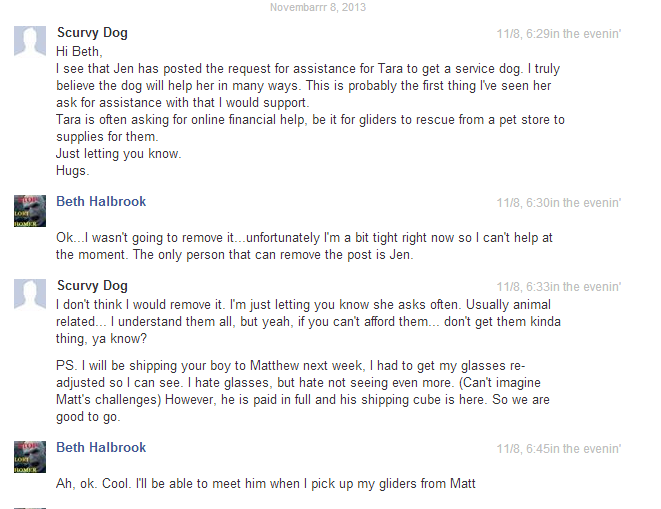 Another (different) story about why Lynn had the memorial fund taken down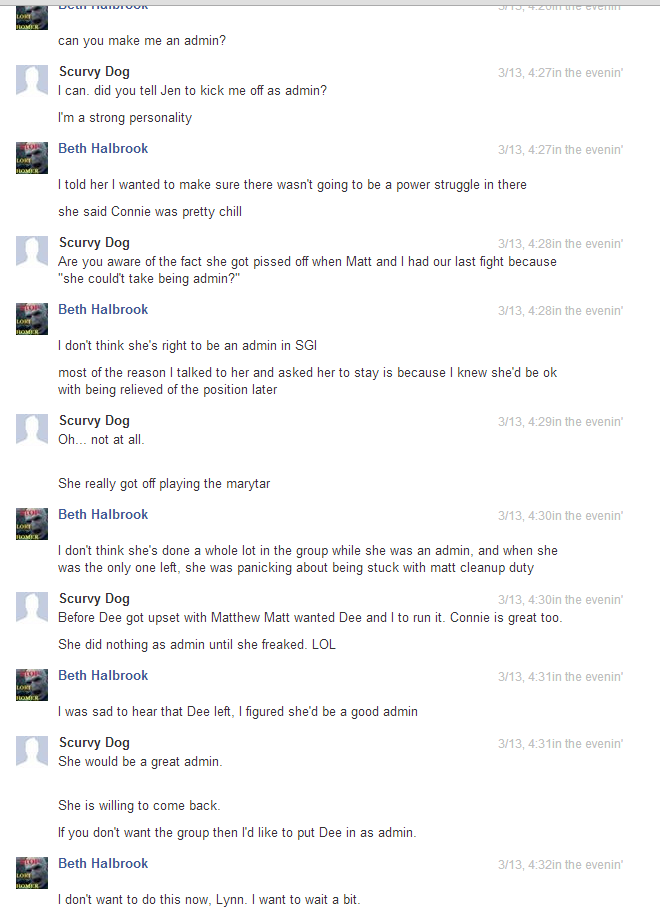 Lynn and I talking about me taking SGI temporarily until I can instate a new staff.
Lynn suggesting that I make a side account (against the TOS, it's a trap!!) for SGI so I don't scare anyone away with my ugly drama face. This is the "suggestion" she mentioned that I wouldn't take that would have "made me an admin"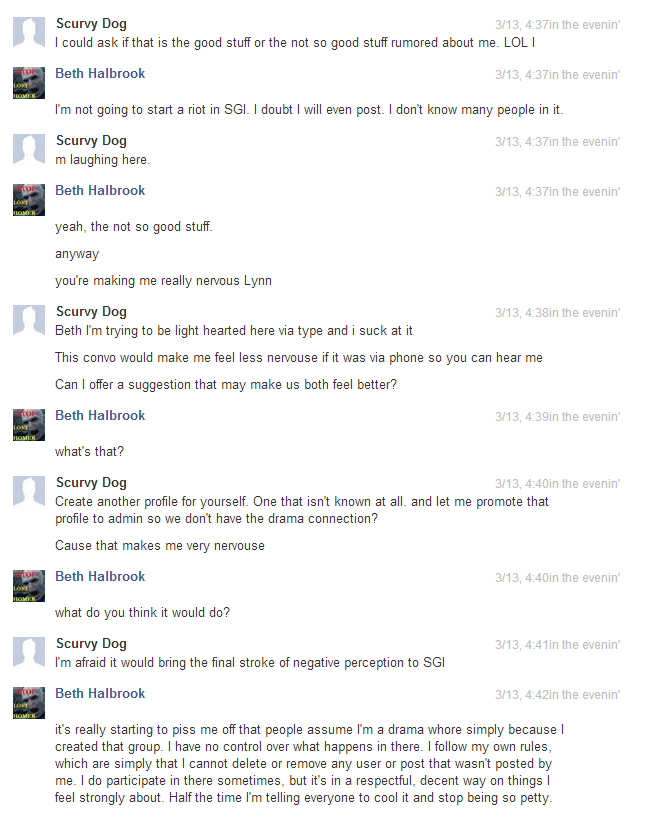 Lynn suggests that if I reopen the Drama group I will be taken to court. It's not a direct threat, but the idea is there. She uses Danielle as backup when Danielle never said anything like this.
Toward the end she tells me she doesn't think Dapple's parents have anything wrong with them. Later she talks Dan out of buying Dapple's niece on the grounds that something could be wrong with her genetically.
We still don't know what Lynn really thinks--genetic or circumstantial? Probably depends on what best suits her needs at the moment.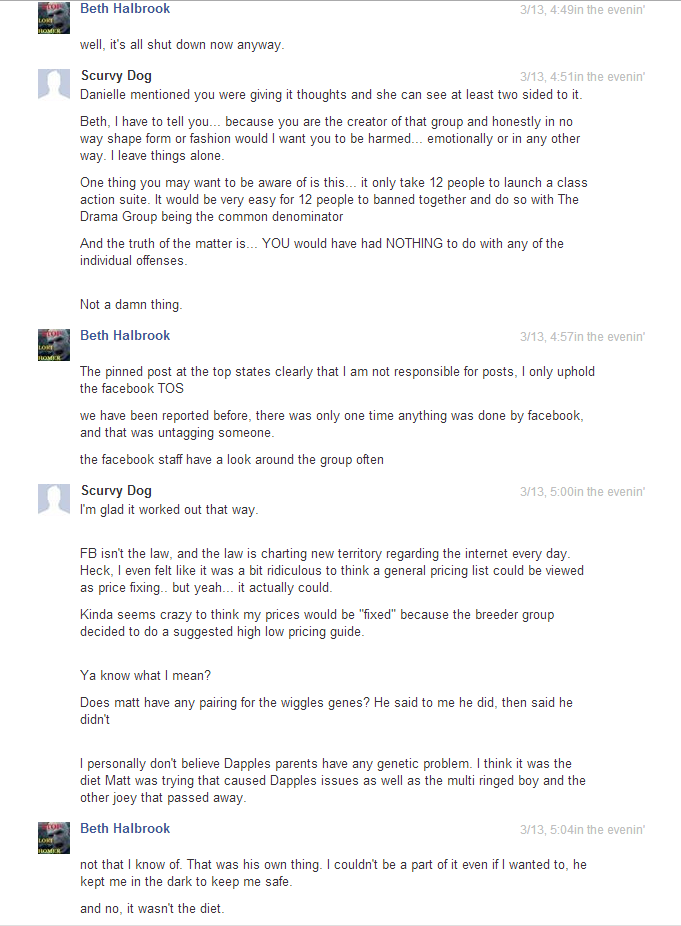 When I passed on the message from Matt's family that Lynn needs to stay out of their arrangements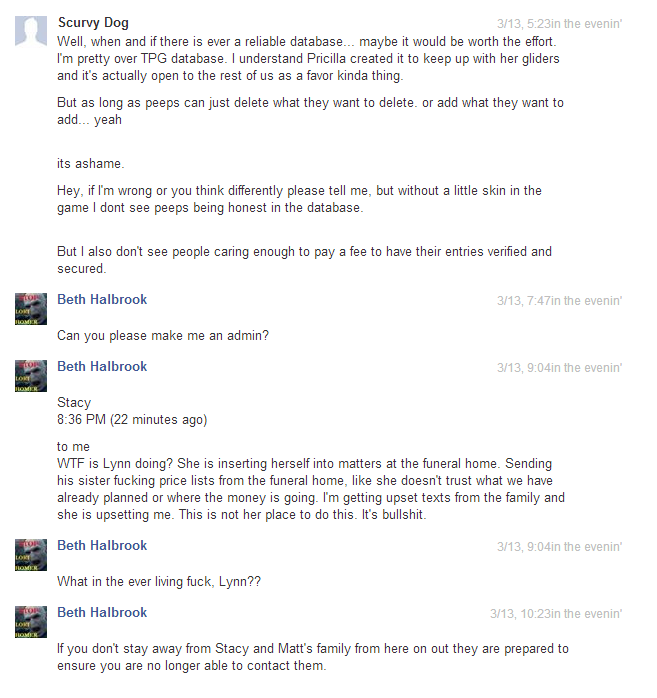 The post I had on my wall that she got me banned for 12 hours for. Larger copies of these are available.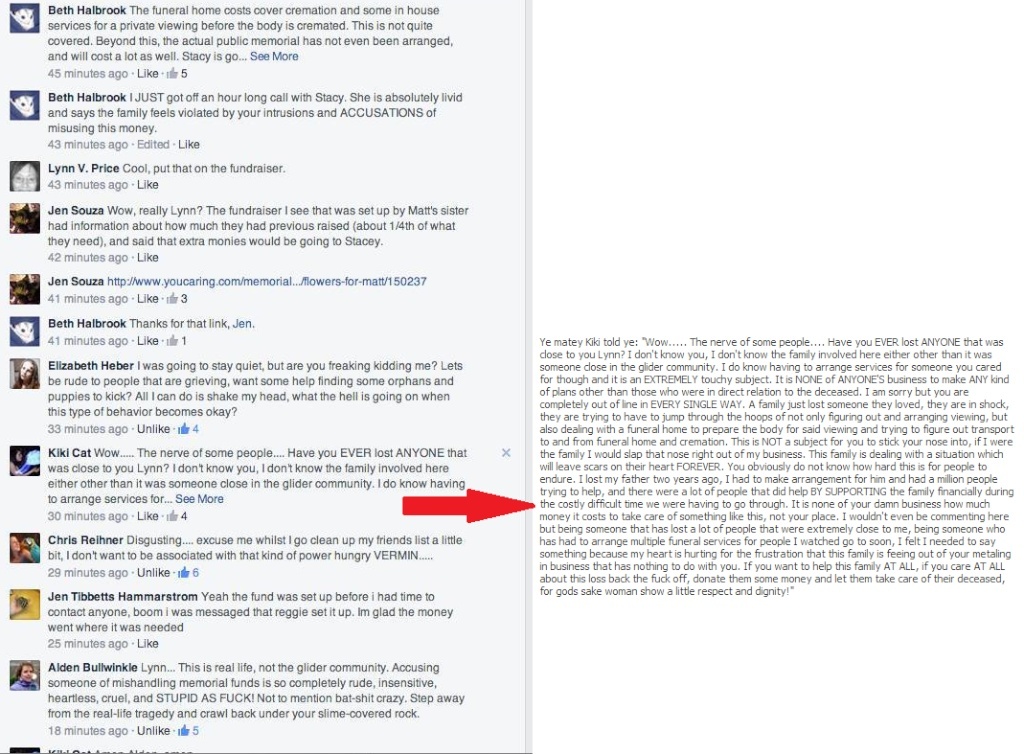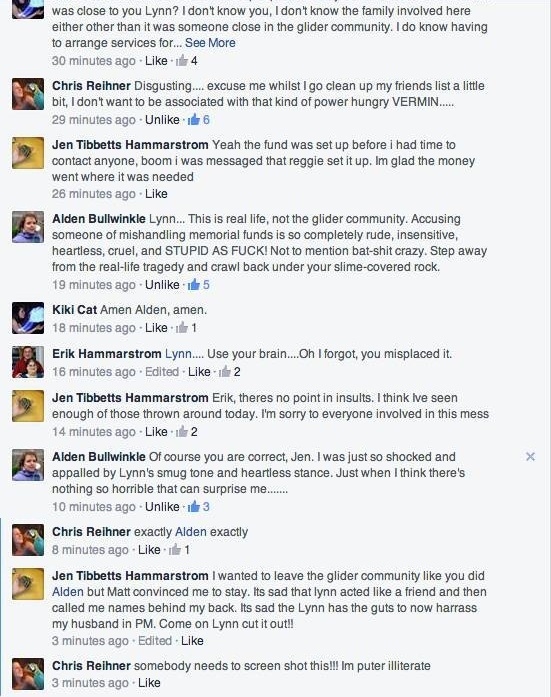 The ban notice I got after Lynn had my wall post reported
MC Skwerl is the glider Matt had paid for before he passed. After he passed, Lynn said she would refund Stacy's money once he sold. You can see here that Lynn has kept him and given him a mate, and no money was returned to Stacy.
This pedigree can be found here:
http://pedigree.thepetglider.com/modules/animal/pedigree.php?pedid=32798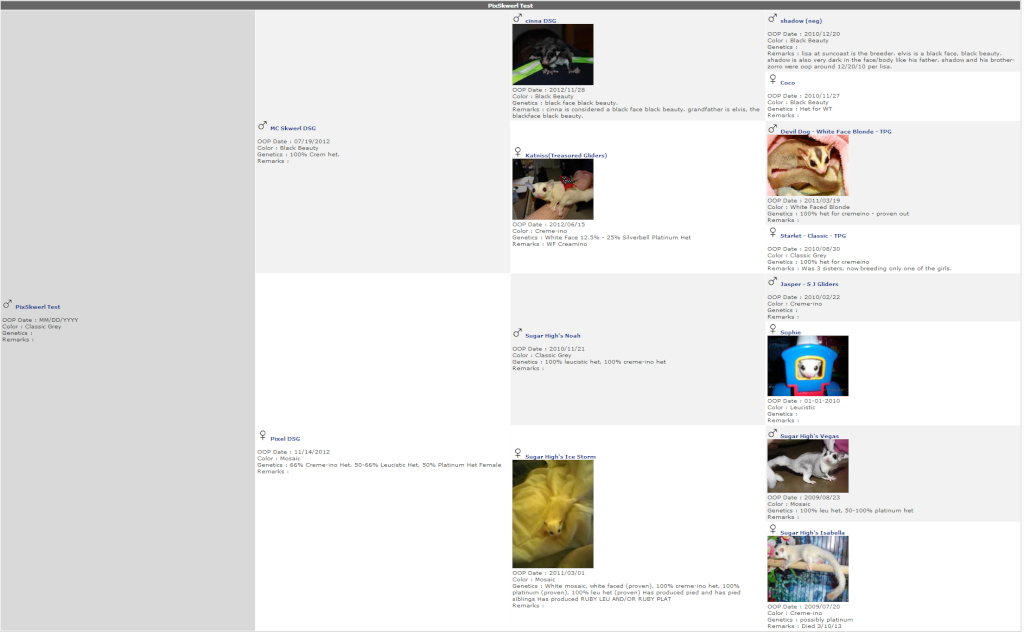 Lynn says to me that she thinks Dapple's parents are fine, and that she feels diet was the issue, and also projects that breeding siblings, cousins, nieces, nephews, uncles, etc. as safe, but when Dan shows interest in Dapple's niece Lynn talks him out of the sale.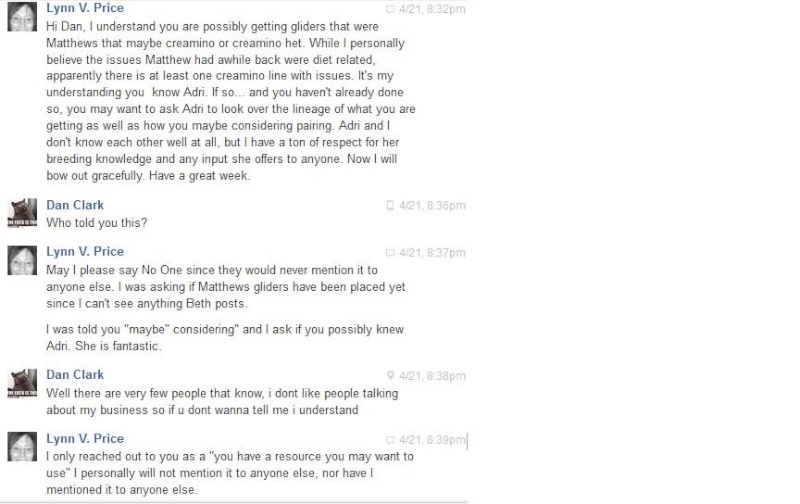 Lynn says to me that she thinks Dapple's parents are fine, and that she feels diet was the issue, and also projects that breeding siblings, cousins, nieces, nephews, uncles, etc. as safe, but when Dan shows interest in Dapple's niece Lynn talks him out of the sale.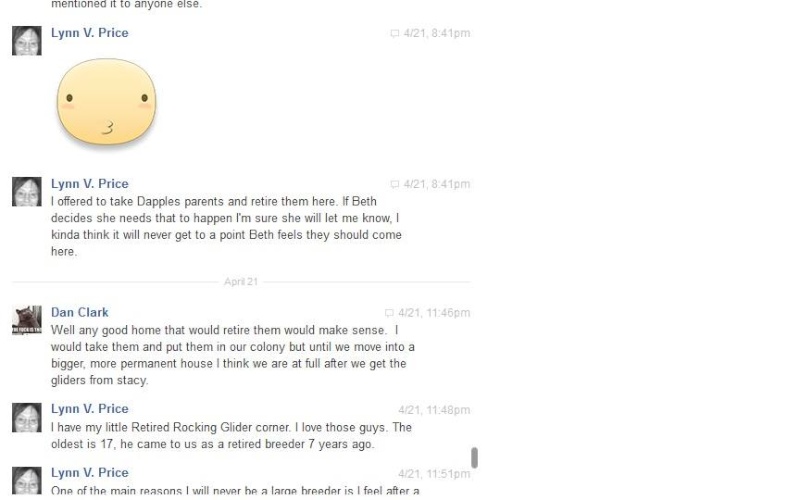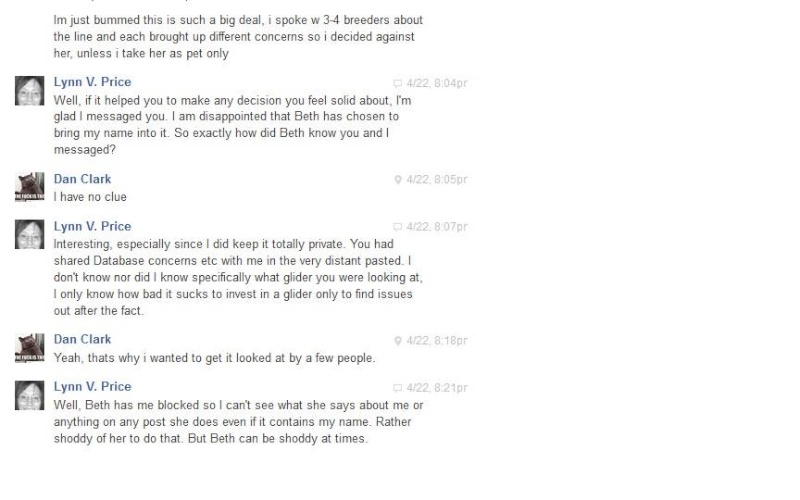 Angie's experience with Lynn
What Lynn had to say about Resa Martin in April '13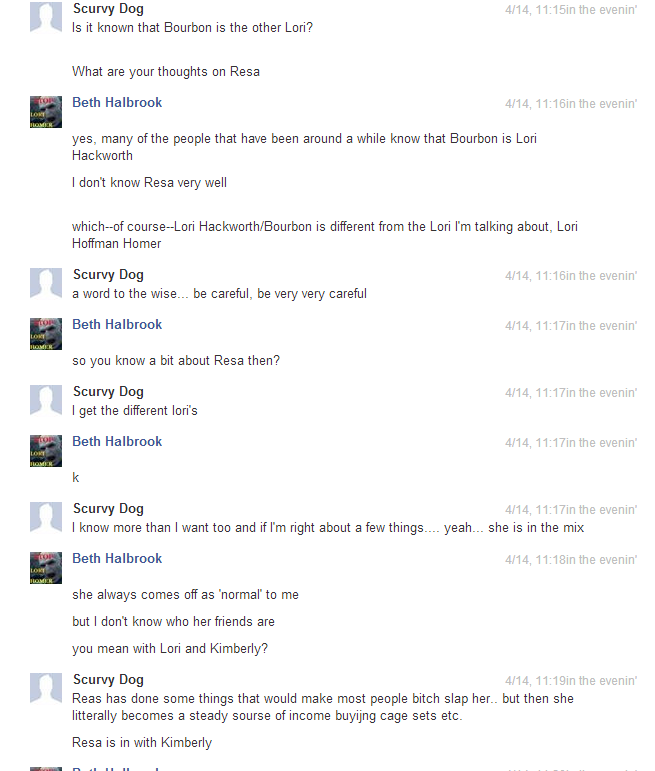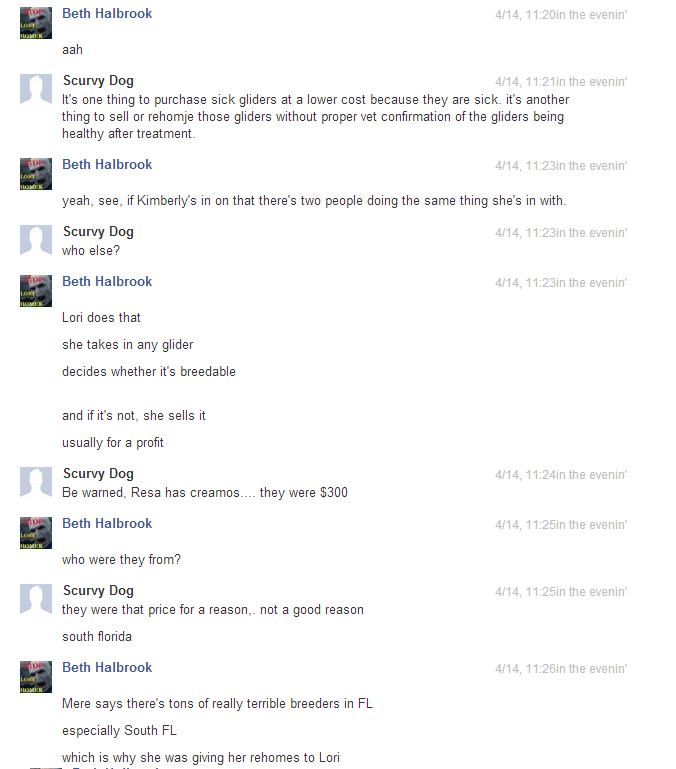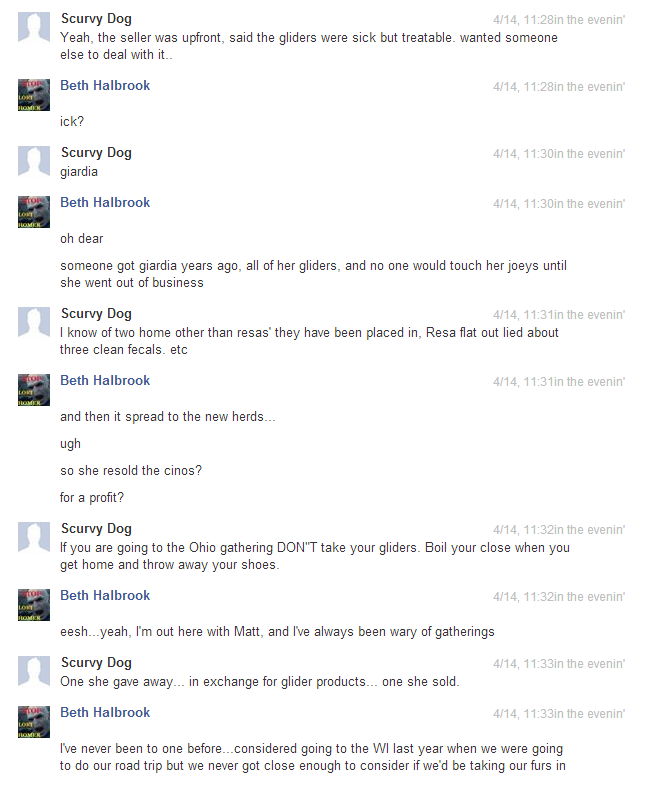 Resa Martin's reply to Lynn's messages to me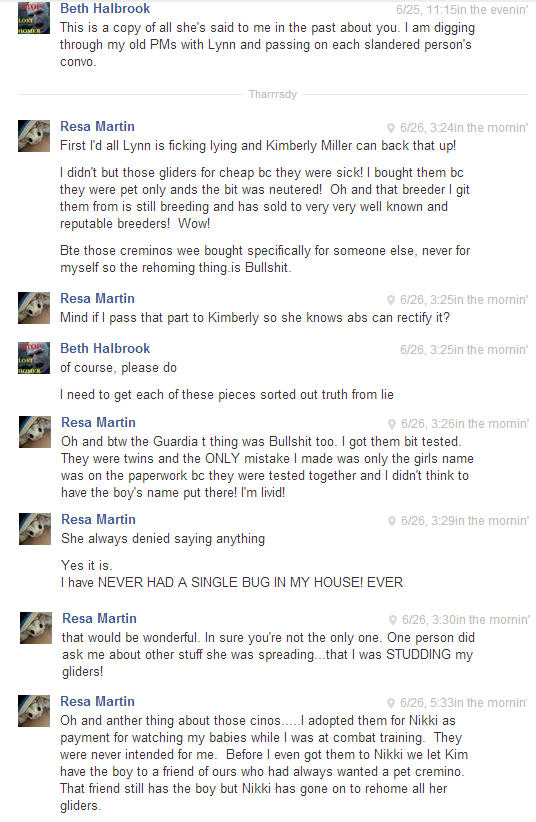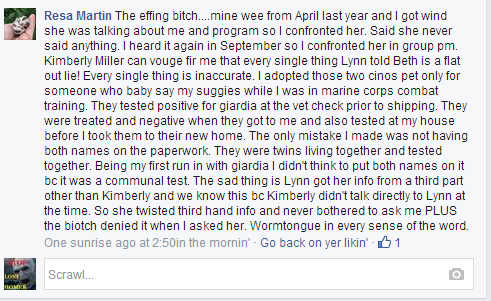 This seems to be a going theme. We have had several people say that Lynn would pop up often and give out negative info about people, unsolicited.